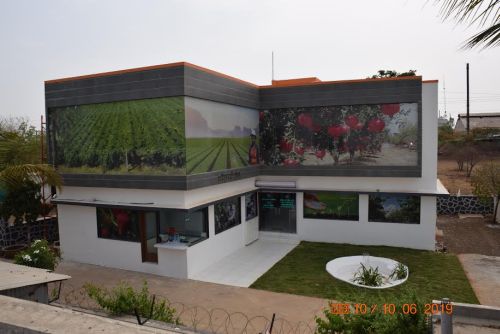 Krishidoot Bio Herbals is the leading manufacturer, supplier and exporter of organic certified herbal and biological products.

Krishidoot Bio Herbals (A HOUSE OF ORGANIC PRODUCTS) is an ISO 9001:2015 certified company established by Dr. Ramnath Jagtap, (M. Sc. Agri. Ph.D.) in 2005. Our high-quality organic certified products (inputs) includes :
Organic Fungicides, Insecticides
Herbal Plant Growth Enhancer/Promoter
Bio fertilizers and Biopesticides
Micro nutrients Fertilizers and Soil Conditioners.
We also provide services for Soil, Water, Plant petiole and fertilizers analysis
Consultancy for management practices of horticulture crops.

Our company is backed up by its strong R&D team and well equipped Krishidoot Analytical Laboratory.

Our agricultural inputs are widely supplied to agricultural industries dealing in Grapes, Pomegranates, Mango, Apple, Tea Gardens and all Vegetable crops.

Our motto is "Grow Organic Go Organic", "Organic is always, Good for Nature, Good for Health".
Certifications/Recognitions
Krishidoot Bio Herbals is :
An ISO 9001:2015 Certified company
Organic certification by ECOCERT (NPOP & NOP Standards)
DSIR registered and DSIR recognised research facilities
Why Us?
Krishidoot Bio Herbals is :
Serving Since 2005
Manufacturing Supplying & Exporting Organic certified Inputs like
Herbal Plant Growth Promoter/Enhancer
Organic Insecticide
Organic Fungicide
Bio Fertilizers
Bio Pesticides
Micronutrient Fertilizers
Soil Conditioner
Manufacturing plant fully equipped with modern machinery, laboratory and backed up by R&D department.
Manufacturing Residue free, non toxic, environmental friendly and high quality products.
Promote Organic Farming.
Serving Job work (Bulk Supply), Soil, Petiole, Water and Residual analysis.
Following Indian as well as various international standards for quality production.